Toy Drive
Each year students in Mr. Jones' Basic and Advanced Woodworking classes make toys which are distributed to needy kids in the Morrisville Community by the Ivin's Outreach Center. This is a unique opportunity for students to contribute to the community. Morrisville students make toys out of wood grown in Morrisville for other needy children in Morrisville.
Toy Drive Results:
2005: 22 students made 22 toys

2006: 10 students made 58 toys
2007: 8 student made 44 toys
2008: 14 students made 48 toys. In additon, one section of Advanced Woods students made two alphabet trains with Ms. Kinney from the College of New Jersey. These 28 car trains (Engine, 26 letter cars, and caboose) were given to Kindergarten and Pre-K classes who were displaced by the M.R.Reiter situation. The students were recognized as Community Craftsman for "doing good with wood" for others. Morrisville placed as runners up in the Community Craftsman Contest. The Tech Ed department recieved $1,500.00 worth of Minwax stains and finish.
2009: 6 Students made 43 Toys
2010: 5 Students made 45 Toys.
2011: 5 Students made 54 Toys. A nice story and two photos was published in the news paper about the project. As a result of the article two members of the community donated items to the program. One person donated some hand tools. The other donated dozens of wooden wheels that can be used on future toys.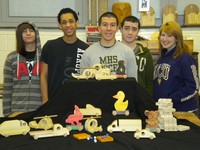 2012: 3 Students made 56 Toys. The three students were recognized by the School Board during the Student Spotlight portion of the December Board Meeting.
2014: We made 50 Toys
2015: We made 50 Toys
2016: We made 50 Toys
2017: We made 50 Toys
2018: We made 50 Toys
2019: We made 50 Toys
2020: Mr. Jones recruits help from student who recieved in-person instruction during the pandemic to produce 50 Tic-Tac-Toe boards. These were given to the Kindergarten students as part of their holiday party supply pick-up.