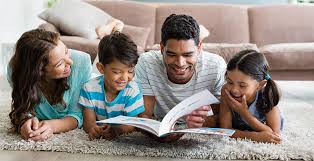 10 Ways for Parents to Encourage Their Child to Read
Develop children's oral language. ...
Read several stories every day. ...
Surround your children with reading material. ...
Encourage a wide variety of reading activities. ...
Use technology to increase self-esteem. ...
Let them use e-readers. ...
Let them choose what they read. ...
Help them choose age-appropriate books.
More items...
To teach at home, reinforce schoolwork with easy activities:
Team up with the teacher. Ask how you can highlight phonics and reading. ...
Listen to your child read daily. If your child stumbles on a word, encourage him to sound it out. ...
Boost comprehension. ...
Revisit familiar books. ...
Read aloud. ...
Spread the joy.
Why is it so hard to motivate kids? As parents, we often have a funny, inaccurate belief that our children won't care unless we twist their arms. But the simple truth is that your attempts to motivate your child are probably working against you.

There's something wrong with the picture if you care more about your child's grades than he does.

You can't make your child care just because you do—in fact, you might actually get in the way of their motivation. What's worse, the push-pull of trying to motivate your child usually turns into a power struggle. There's something wrong with the picture if you care.